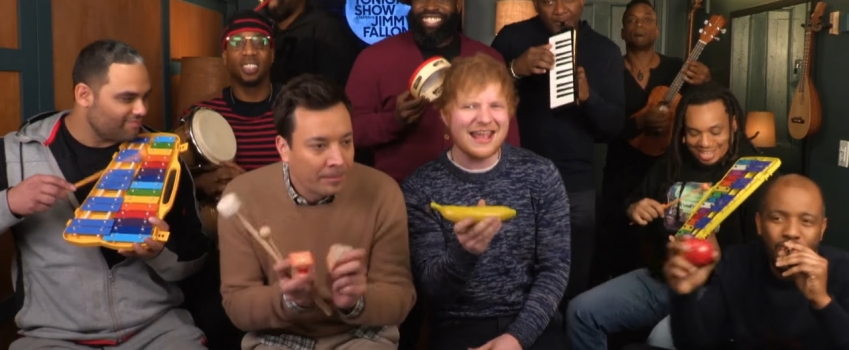 For years now, famous artists have ditched their studio equipment to produce hilarious remixes of their hits with Jimmy Fallon's Classroom Instruments skit.
Related: Kendall Jenner Gets Jimmy Fallon a New Job
If you aren't familiar with Classroom Instruments, consider this your quick tutorial. Mr. Fallon and The Roots leave real instruments behind and arm themselves with alphabet blocks, kazoos, and recorders. Once they add famous singers, these songs come to life in hysterical and awesome ways.
Most recently, The Tonight Show gang teamed up with Ed Sheeran to remix 'Shape of You.' Sheeran kissed his acoustic guitar goodbye and embraced a, wait for it, banana shaker.
Related: Jimmy Fallon and Justin Timberlake Just Sang about Poop
We've rounded up the best 6 Classroom Instruments performances for you below (in no particular order). Enjoy!
Ed Sheeran with 'Shape of You'
Is it us, or is Ed ruling that banana shaker?
Idina Menzel with 'Let It Go'
Idina hit every note with serious precision.
Adele with 'Hello'
You won't need the tissues for this upbeat version.
Mariah Carey with 'All I Want for Christmas Is You'
Talk about cuteness overload. Mariah knows how to keep it fun.
Sesame Street Theme
There's no better way to get to Sesame Street. Agree?
Meghan Trainor with 'It's All About that Bass'
This version will make you want to 'shake it, shake it.'
Which Classroom Instruments skit is your favorite?