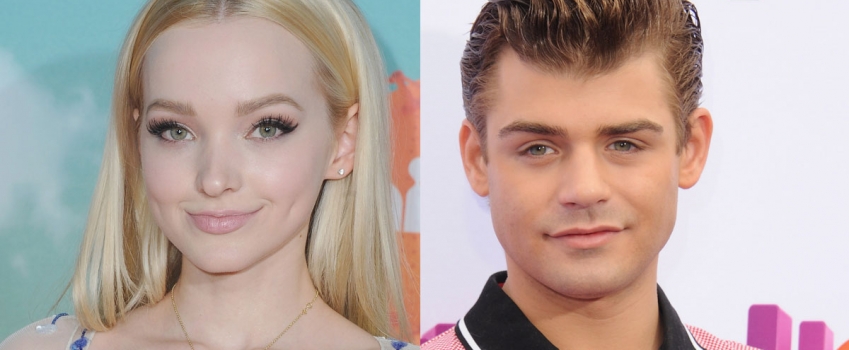 One thing is for sure–Hairspray Live! includes some of the hottest stars in Hollywood. Both Ariana Grande and Jennifer Hudson will belt out some showstoppers.
Related: Dove Cameron Sings 'Genie in a Bottle' with Extras
However, the live television musical just got better.
We learned yesterday that Dove Cameron (Disney's Liv & Maddie and Descendants) and Garrett Clayton (Teen Beach Movie) will portray Amber Von Tussle and Link Larkin. Both turned to social to announce their great news.
Dove Cameron's Hairspray Live! Reaction
Cameron's Instagram response was simple but telling.
Follow us on Instagram for celeb sightings
On Twitter, Cameron opened up a bit more with a holler to Jennifer Hudson and an emoji-filled, all-caps declaration.
One of the best moments of today was @IAMJHUD telling me I can "sing my a** off". life over. Made.
Done. @HairsprayLive

— Dove Cameron (@DoveCameron) August 2, 2016
I COULD NOT BE MORE EXCITED 😍😍😍😍😍😍 https://t.co/XxBr4J1lBl

— Dove Cameron (@DoveCameron) August 2, 2016

Follow us on Twitter for updates on your favorite celebs
Garrett Clayton's Hairspray Live! Reaction
Can you tell how excited Clayton is?
Dream show! Dream cast! Dream role! I am SO EXCITED/THANKFUL to be a part of @hairspraylive on @nbc! #HairsprayLive pic.twitter.com/nVYCGIHBfq

— Garrett Clayton (@garrettclayton1) August 2, 2016

The Hairspray Live! Cast
On December 7, 2016, NBC will air this whimsical musical. Till then, you can turn to Instagram and Snapchat for behind-the-scenes footage.
If you thrilled about Cameron and Garrett, you will be even more excited to see who else is gracing your screen:
Jennifer Hudson – Motormouth Maybelle (Strong, yet loving)
Ariana Grande – Penny Pingleton (She'll be the gal with the pigtails)
Derek Hough – Corny Collins (The ever-so-cheesy TV host)
Kristin Chenoweth – Velma Von Tussle (This is amazeballs because Dove Cameron will be reuniting with her onscreen mom from the Descendants)
Dove Cameron – Amber Von Tussle
Harvey Fierstein – Edna Turnblad
Martin Short – Wilbur Turnblad
Maddie Baillio – Tracy Turnblad
Garrett Clayton – Link Larkin
Are you counting down to Hairspray Live!'s debut?